Hear Better with Oticon

Hearing Aids
Back in 1903, Hans Demant went from his home country of Denmark to England to get hearing aids for his wife. Soon after that, he decided to help other people in Denmark and began importing on a regular basis. In 1904, he founded Oticon. The family business was eventually handed over to Hans' son William, who continued his father's work. Because of the Second World War, imports became impossible, but William continued to design and manufacture hearing aids. During this time, the first licensed Danish hearing aid was released. Today, Oticon hearing aids bring innovative developments together with the company's main idea of "people first." "People first is a promise: That everything we do always begins with the people we are doing it for."
Technology Created to Help the Brain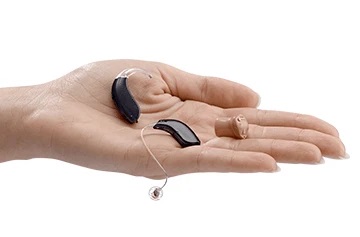 BrainHearing technology invented by Oticon together with Eriksholm Research Centre, no only helps people to hear better, but also provides a full life! The process of speech recognition is very complicated. Getting inside the inner ear, the sounds turn into neuro-signals, and the brain processes them in this form. BrainHearing helps the brain understand sounds that have been distorted at the entrance to the ear. This technology works on the Inium Sense platform and is equipped with such advanced developments as Inium Sense feedback shield, Speech Rescue, YouMatic, Speech Guard E, Soft Speech Booster, Free Focus, and Spatial Sound. The last two make orientation in the sound space easier, help the brain to separate sounds, and quickly determine their source. Speech Guard E promotes better speech recognition in noisy environments, for example, when talking with friends in crowded places. It requires less effort to understand words, and a person can freely enjoy the conversation. YouMatic was created to customize hearing aids to the individual needs and preferences of each person so that listening is as comfortable as possible.
All these characteristics of the Oticon hearing aids facilitate the hard work of the brain and guarantee the owner the possibility of unconstrained communication and participation in important events. A healthy life is a life filled with a variety of natural sounds! Try it out with Hearing on Call – your reliable local provider of Oticon hearing aids in "Greater Chicagoland", "Illinois, Indiana and Wisconsin".
Simple Management of Hearing Aids with
Wireless Connection
In their practice, Oticon manufacturers hearing aids using cutting edge technology to satisfy all the requirements of the modern world. Oticon's line of multifunctional devices is compatible with other electronic devices, such as TV, audio equipment, or smartphones, which makes life even more convenient! You can easily set up your hearing aids to get calls from your phone thanks to the ConnectLine wireless communication system. Or you can also adjust the sound settings using the remote control. Explore the finest choice of Oticon hearing aids in "Greater Chicagoland", "Illinois, Indiana, and Wisconsin" by browsing our online catalog.

Check Out Our Range of