Quality Tested by Time
with Phonak
Hearing Aids
Phonak Hearing Aids: Swiss Quality is Now Available in the US
For the last 72 years, Phonak has been associated with high-quality hearing aids for everyone. Back in 1947, when the company first started, it was mostly known for its top-notch listening devices for children. But non-stop technological development and constant self-improvement have helped Phonak to expand production and become one of the biggest hearing aid manufacturers, not only in Switzerland but in over 100 other countries all over the world.
In 2017, Phonak celebrated 70 years of creative innovations and market leadership, including the first ever portable hearing aid, the Phonak Alpina introduced in 1950. More than twenty years later, Phonak pushed the envelope once again, presenting the first digital listening device and the very first waterproof hearing aid suitable for swimmers. The most recent accomplishments of the company – the first lithium-ion rechargeable listening device Phonak Audéo B-R and the world's smallest receiver-in-canal hearing aid Unitron Moxi Now – both launched in 2016. Phonak research audiologists have no plans to stop anytime soon, having announced even more exciting releases expected in years to come. Hearing on Call offers Phonak hearing aids for sale in the Greater Chicago area. Enjoy legendary Swiss quality at a reasonable price!
Life without Boundaries
Modern-day technologies allow people who are experiencing different levels of hearing loss to feel as involved in everyday activities as possible. Don't let your impairment stop you from living your life to the fullest! The newest Phonak hearing aids give users an opportunity never to feel excluded or left out of the action. Don't miss out on family movie nights and dinners with friends ever again! Phonak hearing aids use cutting-edge noise canceling and audio enhancing technologies to make sure you hear clearly in any situation. Now you can be the life of the party wherever you go!
There is also good news for those who suffer from tinnitus. Forget about annoying ringing in your ears! The newest Phonak hearing aids have built-in noise generators to mask the tinnitus. Using the mobile app, you can select the sound to your liking and return to normal life in just a few taps on the screen.
Buy Phonak Hearing Aids In Person with Online Prices
The Hearing on Call store offers the broadest assortment of listening devices and accessories at the most affordable price, making it your #1 source for hearing aids in the US! Other Phonak hearing aid dealers charge more. Only at Hearing on Call will you get high-quality products straight from the manufacturer at wholesale prices. If you have any questions, please call (877) 432-7661. Our customer service agents will gladly help you make an informed decision. Your satisfaction is our top priority!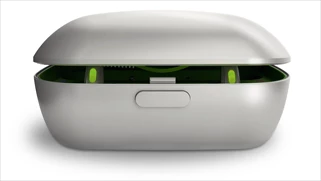 Benefits of Using Phonak devices:
they are tiny, discreet and hardly noticeable;
they easily adjust to your specific needs;
they can function for 24 hours straight without a recharge;
they are compatible with your iPhone, iPad, and iPod;
they can turn into a hands-free microphone to make and receive calls;
they can serve as wireless headphones to stream music from your iPad or audio from your TV set;
they are water, earwax, sweat and dust resistant;
they come in a wide variety of shapes to comfortably fit any ear;
they are available in many colors and designs to suit your taste;
they have a noise generator to control tinnitus.
We believe that hearing shouldn't be a luxury. This is why Phonak hearing aid prices in our stores are nearly 40% lower than other practices. Contact us today and get the best deal!

Check Out The Whole List of Phonak
Hearing Aids Accessories